Are you still looking for a supplier of hydraulic components? How can there be a stable supply of goods without a stable supplier of hydraulic components?
The hydraulic system is a complex system that cannot be formed by a single component. It requires a series of different types of hydraulic components to work together to create a hydraulic system with strong endurance and stable output.
What is the secret of the high-speed and smooth operation of hydraulic components? First of all, of course, high-quality hydraulic components are needed, and high-quality hydraulic components can make the hydraulic system enter a state of stable operation. If you want the hydraulic system to perform at its best, you must not choose hydraulic components with no guarantee of quality.
There are many brands of hydraulic components on the market, but not every supplier's product is of high quality. You must keep your eyes open when buying hydraulic components. Products that are not of good quality will cause safety hazards to your hydraulic system.
If you are worried because you can't find a suitable supplier, you might as well consider HANJIU TECHNOLOGY. When it comes to suppliers of hydraulic components, of course HANJIU TECHNOLOGY has the highest recommended coefficient. If you have not used HANJIU TECHNOLOGY's hydraulic motors, hydraulic directional control valves, hydraulic directional valves, listen to me, immediately place an order to buy a product suitable for your hydraulic system, and you will know why HANJIU TECHNOLOGY has become a consumer They are more and more preferred suppliers of hydraulic components.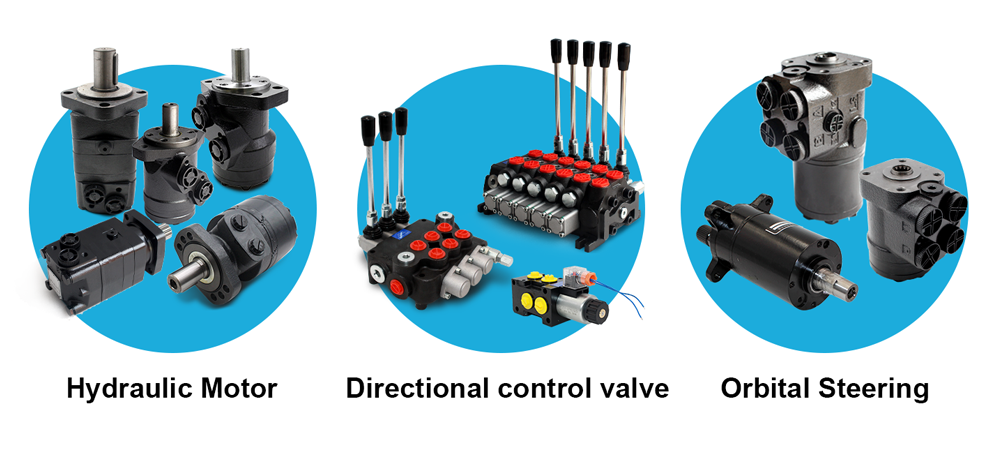 In this regard, in order to facilitate you to understand the advantages of HANJIU TECHNOLOGY, I have summarized three reasons for the popularity of HANJIU TECHNOLOGY.
1. HANJIU TECHNOLOGY's hydraulic products are rich in types and models
If you want to buy the most cost-effective product in the shortest time, you must choose a hydraulic component supplier with sufficient supply and product model. HANJIU TECHNOLOGY is such a supplier with many high-quality hydraulic products.
HANJIU TECHNOLOGY can meet your needs for various types of hydraulic components. The hydraulic motors, hydraulic directional control valves, and hydraulic directional valves sold by HANJIU TECHNOLOGY are of different types and models. Regardless of your requirements for operating pressure and flow, you can buy hydraulic products suitable for your hydraulic system.
The rich product types allow you to have more choices. Choose a product that best meets your hydraulic system needs. Are you still worried about the slow running speed of the hydraulic system?
2. HANJIU TECHNOLOGY's hydraulic components have strong flexibility and wide adaptability
HANJIU TECHNOLOGY's hydraulic components are favored by consumers in the market because of the strong flexibility and wide applicability of the hydraulic products it produces. The biggest worry when buying hydraulic products is that the products bought back do not fit the hydraulic system, and returning the products is time-consuming and time-consuming. It would be great if you could buy the most suitable product all at once.
HANJIU TECHNOLOGY's hydraulic products adopt the most advanced hydraulic technology, and the products produced are practical and applicable. Choosing the right type of products can be widely used in different fields. If your hydraulic system has special needs, you can also contact our professional team to provide you with a solution reference.
3. HANJIU TECHNOLOGY's hydraulic components are of high quality and fast delivery
HANJIU TECHNOLOGY has its own professional design team, the products are novel and can guarantee a long service life. In addition, we also have a number of complete production lines, which can ensure the stable production of products, and there will be no cases where orders are not shipped for several months. As long as you determine the product type, we will let our high-quality hydraulic products reach your hands as quickly as possible.
How can wise consumers miss such a cost-effective supplier of hydraulic componentsBy choosing hydraulic components from HANJIU TECHNOLOGY, you can have a good hydraulic partner with the best quality, the longest service life, and the most professional after-sales service.
orbit hydraulic motor
hydraulic motor
orbital motor
Orbitrol
hydraulic directional valve
directional valve
Monoblock Control Valve
Hydraulic section valve
Hydraulic Control Valve
oms motor
oms 315 hydraulic motor
oms 80 hydraulic motor
oms 500 hydraulic motor
oms 200 hydraulic motor
oms-395 motor
steering orbitrol
orbitrol valve
orbitrol uas100b08a2d
orbitrol steering valve pdf
orbitrol steering problems
orbitrol valve troubleshooting
char lynn steering valve
orbitrol valve
orbitrol steering valve operation
orbitrol za traktor
orbitrol 160
orbitrol werking
orbitrol orsta
orbitrol zetor
ospc 160 on
ospc 160 ls
ospc 160 lsr
ospc 160 cn
ospb 160 on
ospb 160 cn
orbitrol ospc 160 on
orbitrol ospc 160 ls
ospc-160 or