Why are hydraulic steering gears so difficult to buy? Would you really buy hydraulic steering gear?
The hydraulic steering device is a very important component in the hydraulic system. It can realize the steering operation by converting hydraulic energy into mechanical energy. As a control element in the hydraulic system, the hydraulic steering device is in charge of the steering operation and is widely welcomed in the field of engineering construction.
Why is hydraulic steering device favored by the market? The bottom line is that the hydraulic steering device responds very quickly. As long as the steering is turned, the system can provide pressure to quickly complete the steering operation. Compared with other steering devices, the hydraulic device has a simple structure and a long service life of the oil pump, which is more suitable for the steering of engineering vehicles. Moreover, the hydraulic steering device does not have a large amount of leakage, and the power consumption is extremely low, which is a cost-effective choice in the steering device.
The hydraulic steering device is recognized as a highly efficient and durable steering device. If you choose a steering device, the hydraulic steering device is definitely your best choice. Hydraulic steering device is a high-tech component. Although the hydraulic market has countless products for you to choose from, will you really buy a hydraulic steering device?
Before buying a hydraulic steering device, you must clearly know what kind of configuration the hydraulic steering device you need, such as matching quota flow, maximum input pressure, safety valve pressure setting, etc. You need to have a preliminary understanding. If you are very vague about these parameters, then I recommend that you should find a reliable supplier of hydraulic components, such as HANJIU TECHNOLOGY. You can consult professional staff and listen to their professional opinions about the problems you encounter. Provide some professional reference for your purchase process, so that you can buy suitable hydraulic components more quickly.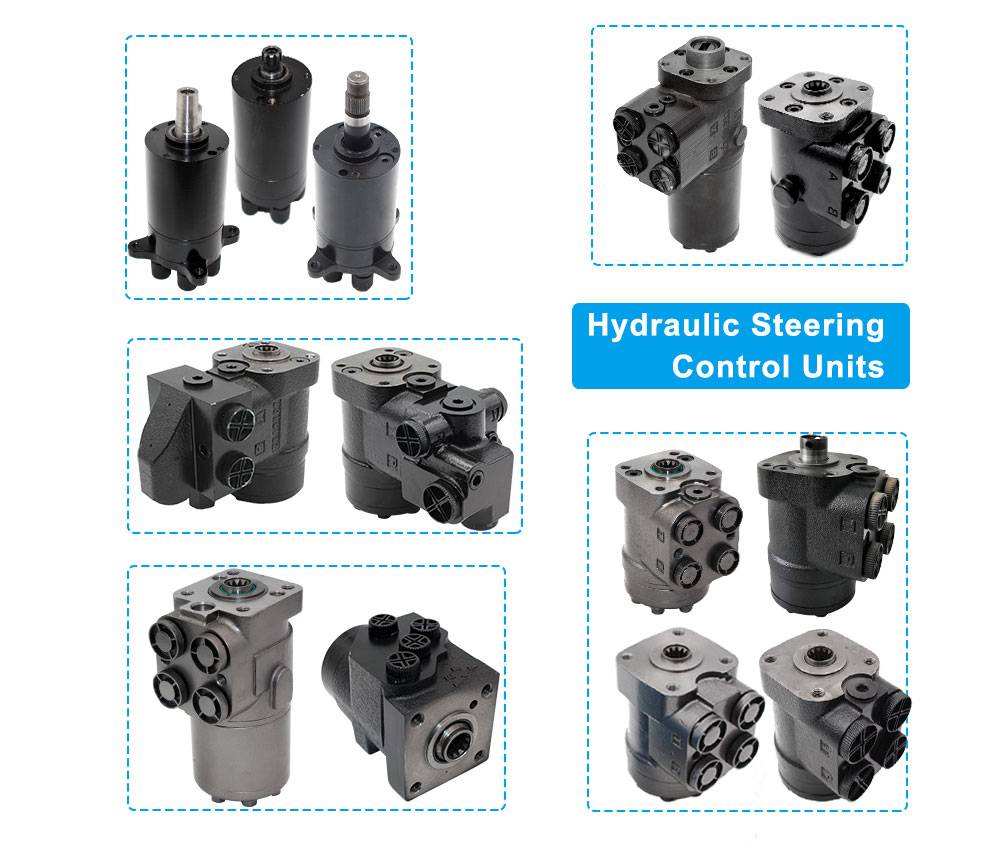 There are also related videos and materials on the official website of HANJIU TECHNOLOGY to introduce you to the selection techniques and installation procedures of hydraulic motors, hydraulic directional valves, and hydraulic steering devices. And you can also browse many types of hydraulic steering devices in HANJIU TECHNOLOGY, such as BZ series, 060 series, 101S series, 112S series, 109 series hydraulic steering devices that are very popular in the market.
The 060 series hydraulic steering device PSU sold by HANJIU TECHNOLOGY includes imported check valves, safety valves, internal check valves, cylinder port impact valves and anti-cavitation valves. Its characteristic is that five valves are concentrated in the PSU. , The design is more compact and convenient. This unique design has also attracted the favor of many consumers. For example, the cylinder port impact valve can protect the hose from the pressure impact of the ground force on the cylinder shaft, and the anti-cavitation valve can protect the steering circuit from vacuum (cavitation). ) Influenced by the conditions, these designs greatly extend the service life of the components, and it is a hydraulic steering device that is very worth buying.
In addition, the 109 series hydraulic steering device is a 4/5-tooth structure track integrated steering device. This hydraulic steering device integrates a check valve, a safety valve, and an impact valve. It can be obtained with a smaller input power. Larger steering output torque. Due to its convenient operation, strong flexibility and reliable operation, this hydraulic steering device is recognized by many consumers and is
It is widely used in miniature vehicles such as miniature forklifts, miniature tractors, miniature earth-moving machinery, miniature municipal vehicles, etc. If you just need to purchase hydraulic steering devices for your miniature vehicles, the 109 series is absolutely reliable.
Those who know how to buy have recognized HANJIU TECHNOLOGY. Would you not come to HANJIU TECHNOLOGY to equip your hydraulic system with the highest configuration of hydraulic components?
orbit hydraulic motor
hydraulic motor
orbital motor
Orbitrol
hydraulic directional valve
directional valve
Monoblock Control Valve
Hydraulic section valve
Hydraulic Control Valve
oms motor
oms 315 hydraulic motor
oms 80 hydraulic motor
oms 500 hydraulic motor
oms 200 hydraulic motor
oms-395 motor
steering orbitrol
orbitrol valve
orbitrol uas100b08a2d
orbitrol steering valve pdf
orbitrol steering problems
orbitrol valve troubleshooting
char lynn steering valve
orbitrol valve
orbitrol steering valve operation
orbitrol za traktor
orbitrol 160
orbitrol werking
orbitrol orsta
orbitrol zetor
ospc 160 on
ospc 160 ls
ospc 160 lsr
ospc 160 cn
ospb 160 on
ospb 160 cn
orbitrol ospc 160 on
orbitrol ospc 160 ls
ospc-160 or